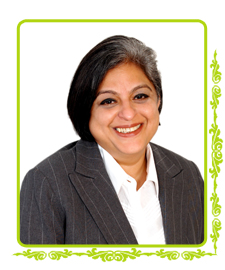 Growing up in Lagos, Milanda knew from an early age that her career would take a culinary path when she baked her first cake at the age of 8. As a child, not only did she innovate in creating classic and decadent cakes and pastries, but she often spent her free time in the kitchen, baking them for her family.
Milanda completed her culinary education in Hong Kong with Patricia Moussempes from Lenôtre, Paris. Over the years, she supplemented her learning and studied at various institutes in Singapore, and the U.S.
Returning to Mumbai in 1995, Milanda steadily built a reputation as an innovative chef and was sought out for her culinary classes and pastry orders. As word of her multi-layered cakes spread, in 2005, Milanda accomplished a milestone and opened the first delicatessen and gourmet store in Mumbai outside of a 5 star hotel called Santé which offered more than just deserts and soon became an oasis in an otherwise parched city for quality meats, exotic cheeses, gourmet ingredients and organic food.
In 2010, Milanda sold Santé, and went back to learning new ideas around pastry innovation. Now operating out of her 4 kitchens from her home, Milanda undertakes catering orders in addition to deserts for up to 30 people. And her menus are customized to suit individual preferences. Her range includes salmon, sea bass, scallops, New Zealand lamb chops, pork chops and tenderloin,and baby back ribs.
Acclaimed for customizing desserts, Milanda understands her client's favorite ingredients and then creates a unique dessert to reflect their personalities and preferences. Her customized cakes are still very much sought after and now she also caters exclusively for parties for children, delighting them with her smorgasbord of delights.
Milanda's celebrated clients include several industrialists and Bollywood stars like Katrina Kaif, Karan Johar, Hrithik Roshan, Harsh Goenka, Veenu Raheja, Meena Raheja, Ehsaan Noorani, Bobby Deol, Saif Ali Khan, Hemant Trivedi, Rahul Khanna, Poonam Bhagat - Shroff, and Sameera Reddy.